ICIN 2009 Keynote Speakers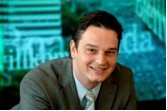 Heinrich Arnold
Vice President, Head of Innovation Development, Deutsche Telekom AG, Germany
Since 2004, Dr. Heinrich Arnold heads up 'Innovation Development' – Applied Corporate R&D – at Deutsche Telekom AG, Laboratories, In addition, Dr. Arnold is in charge of R&D strategy, the Office for Technology and Market Trends Research which includes exploration, technology scouting, and customer driven innovation. Arnold also takes care of the entrepreneurship and spin-off activities at T-Labs.

Martin Geddes
Head of Strategy, BT Design, UK
Martin Geddes is Head of Strategy at BT Design, a division of BT Group. He is acknowledged as one of the leading thinkers and analysts on the future of the communications industry. He has a specialist interest in the future of voice and personal communications, as well as the application of two-sided market structures to the telecoms industry.
Until the close of 2008 he was Chief Analyst at STL Partners, where he co-founded the Telco 2.0 Initiative. This is designed to catalyse business model innovation and collaboration across the telecoms-media-technology ecosystem. He has consulted to many multi-national network operators and equipment vendors on strategic issues, as well as being a key contributor to Telco 2.0 research and conferences.
Martin Geddes also writes a popular telecom strategy weblog. He has been cited by Business Week, Forbes, and BBC News Online, as well as many industry journals. He is a popular presenter at many leading industry conferences.
Before becoming an independent consultant, he was a technology specialist and product strategy manager at Sprint in Overland Park, KS, and is named on eight granted US patents. Prior to entering telecoms, his early career was as an IT consultant, specialising in high availability and scalability database design at Oracle Corporation, as well as financial transaction processing systems at BancTec Inc.

Pankaj Shroff
Director, Product Strategy, Tellabs, USA
Pankaj Shroff joined the CTOs office at Tellabs in March 2009. Pankajs role at Tellabs is to help define technology strategy for new products and markets. Pankaj brings a decidedly service provider view with emphasis on service delivery, network architecture and new monetization models that help Service Providers create high ARPU services in consumer and enterprise markets. More recently, his areas of interest have consisted of Application Aware Networking, Cloud Computing, Mobile Video, Mobile Security, Mobile Backhaul and Mobile Core networks.
Prior to joining Tellabs, Pankaj served as Chief Applications Architect at Sonus Networks. There, he helped build and run a fast growing Applications line of business that augmented Sonus strong portfolio of softswitches, media and signaling gateways, session border controllers and IMS equipment. He was lead architect and evangelist for Service Delivery Platforms and Converged Voice, Web and Rich Mobile Communications Services.
Pankaj has had a versatile career spanning 13 years in telecom, broadcast video and embedded computing. Starting his career at Philips, his team won the Emmy award in 2000 for advancement of television technology through the invention and commercialization of the MediaPool broadcast video storage server. Later, at Vonage, as a Distinguished Engineer in the CTOs office, he helped architect a nationwide Voice over IP network and led the creation of high throughput Media Relay servers using Suns multi-core, multi-threaded Niagara CPUs.
Pankaj has a Masters degree in Computer Science from Utah State University, where he authored a research paper in IEEEs Heterogeneous Computing Workshop, and helped win funding from DARPA for a project on creating Fault Tolerant operating systems running on COTS servers. Pankaj has a Bachelors degree in Computer Engineering from University of Pune, India.
Yoshio Yasumoto
Executive Engineer, Panasonic Corporate R&D, Japan
Yoshio Yasumoto was born in Osaka, Japan, in 1951. He received the B.S., M.S., and D.E. degrees in Electronic Engineering all from Kyoto University, Kyoto, Japan, in 1974, 1976 and 1989 respectively.
He joined Matsushita Electric Industrial Co., Ltd (Now, Panasonic Corporation) in 1976, and from 1977 until 1983 he was engaged in the design of TV receivers and ICs, digital signal processing, and image processing at the Television Division. From 1983 to 1985, he was a Visiting Scholar at the Department of Electrical Engineering, University of Southern California (USC), in Los Angeles. During his visit to USC, he published several papers on computer vision. From 1986 until 1994, he was at Panasonic corporate R&D engaged in the standardization of Extended Definition Television (EDTV) in Japan, and the promotion of the development of digital broadcasting technologies in the USA and Europe. He chaired some working committees for EDTV at the Broadcasting Technology Association in Japan. He was a window person for Panasonic R&D laboratories in USA and Germany.
In 1995, he was appointed Director of the Audio, Visual and Information Research Center of Asia Matsushita Electric (S) Pte Ltd (Now, Panasonic Asia) in Singapore, which was incorporated in 1996 as Panasonic Singapore Laboratories Pte Ltd (PSL). He continued to be Managing Director of PSL until January 2000. In February 2000, he was appointed General Manager of Planning Group and Image Processing Group of Multimedia Development Center, Panasonic in Osaka, Japan. In 2001, he was appointed Director of Multimedia System Research Laboratory, in Tokyo. In 2003, he was appointed Director of Overseas R&D Promotion Center. In 2006, he became Director, Network Development Center both in Osaka and in Tokyo. In 2009, he became Executive Engineer, Panasonic Corporate R&D in Osaka.
He published many technical and review papers in various areas such as digital image processing, computer vision, television systems and image communication, and received the 1988 Best Paper Award of IEEE Consumer Electronics Society.
Dr Yasumoto is a senior member of IEEE. He is also a member of the Institute of Electronics, Information and Communication Engineers of Japan, and the Information Processing Society of Japan.