Tutorial
Tuesday, February 17
Toward a definition of Internet of Things
The Tutorial gives a broad definition of the Internet of Things, explores the challenges from technical, business and social stand points and iintroduces the Virtual Continuum, i.e., the entanglement of real world objects and their virtualized counterpart.
The technical challenges will focus on the software related aspects aiming at emphasis the needs and characteristics of a viable horizontal platform for IoT. The distribution of functionalities between terminals, smart environments and cloud infrastructure will also be considered.
The business challenges focus on possible business models and opportunities that can sustain the IoT ecosystems and the major stakeholders.The social challenges will focus on acceptability of IoT and some concerns related to security and privacy with respect to data.
Eventually the concept of Virtual Continuum will be introduced as a possible proposal for overcoming some of the considered challenges.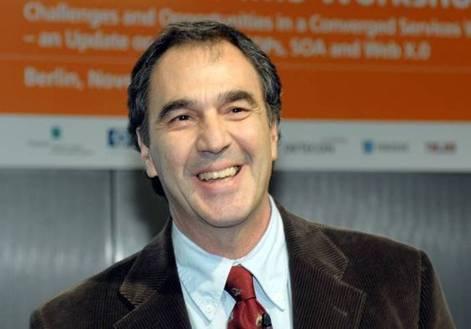 Roberto Minerva, has a Master Degree in Computer Science from Bari University, Italy, and a Ph.D in Computer Science and Telecommunications from Telecom Sud Paris, France. Roberto is the head of Innovative Architectures group within the Future Centre in the Strategy Department of Telecom Italia. His job is to create advanced scenarios derived from the application of emerging ICT technologies with innovative business models especially in the area of IoT, distributed computing, programmable networks and personal data. He held many responsibilities within Telecom Italia Lab: Network Intelligence, Wireless Architecture and Business Services Area Manager. Roberto is also a contract Professor at Turin's Polytechnics teaching a course on mobile services. Roberto is the Chairman of the IEEE IoT Initiative aiming at creating within IEEE a large technical community and to leverage the knowledge and skills available within IEEE.
Since 1987 he has been involved in the development of Service Architectures for Telecom TINA, OSA/Parlay and SIP), in activities related to IMS, and in the definition of services for the Business market (context-awareness, ambient intelligence and automotive). More recently his contribution is in the area of new architectures for the service provision with particular attention to data centric and user centric solutions. Under this perspective he is currently involved in Telecom Italia activities related to Big Data, architecture for IoT, and ICT technologies for leveraging Cultural Heritage. Roberto is authors of several papers published in international conferences, books and magazine.